Mojave 3 was born from the ashes from the old shoe-gazing act Slowdive, a hilarious band that made many songs worth dying for. The sales of their records did not satisfy their record company Creation, so in 1995 they were dropped. This was the main reason for changing their name to Mojave 3, even though some of the members quit due to musical differences.

Shortly thereafter, Neil Halstead (Vocals & Guitar), Rachel Goswell (Vocals) and Ian McCutcheon (drums & Percussion) started recording demos, which they sent to various record companies. 4AD founder Ivo Watts-Russel, also an old Slowdive-fan, got hold of the demo and signed them. The bands name, was a suggestion from a californian friend and didnīt include the prefix "3" in the beginning. There was another artist bearing that name so they put the prefix to the name Mojave (pronouced Mohaavi). Why the "3" you might ask? The band members at this time were 3...

The first sighting of the band was on MTVīs alternative nation the 5th of November 1995 when "Lovesongs on the radio" was aired for the first time. The first record, Ask me tomorrow was released the same month and a tour began with various acts. The record also featured Christopher Andrews on Piano (He later became Rachels husband and is now playing in the group Cuba), Simon Rowe on lead guitar and Audrey Riley on Cello.

After having toured much across UK, Europe and USA, with Simon Rowe and Poppy Gonzalez on piano (who later became replaced with Al forrester as Fullpart member, when she left due to personal reasons) recording became a long-time job. After having put up the release several times, A single was released in june 1998, Who do you love, and another one in september Some kinda Angel. Those two was followed by their second album in october, Out of tune , which was hailed by critics all over the world. A tour took part, with Bernard Butler Among others (Neil played with his band simoultanesly). The band also did some songs to the soundtrack of the move "A walk on the moon" , but only one of them , a cover of Loveīs "No matter what you do" did make it to the actual CD. Mojave 3 was the only "modern" group to have a song featured on the album which could be seen as a success...

In 1999 and beginning of 2000 , mojave 3 took some time of, toured very little and recorded their 3rd album, Excuses for travellers, which came out in may 2000. A lot of touring followed and both Rachel and Neil is currently recording solo stuff. A new Mojave 3 album is planned for January 2002, and thereīs also talk about a live video. A lot to look forward to for the Mojave 3 fans from all over the world...



Hereīs a short description of the members of Mojave 3.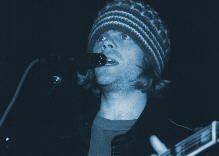 Neil Halstead Neil is the man behind almost all of mojave 3īs songs and he sings and plays rhythm guitar on most of them. Neil was born 7th of october 1970 and was raised in Sonning Common, Reading. He has aldo done some producing (produced and mixed the Eyes Wide E.P. for Blind Mr. Jones (Cherry Red Records)) and having released an E.P. under the name Zurich with Tony F Wilson. This recording is hard to find and is called "Invisible Soundtracks Volume 1 (4-track EP)" the song itself is called A Harsh Truth, parts 1 & 2 . Also, Neil Halstead is a part of US film company Black Monkey Suit/ Freakie Pig, who has released the film "I Am The Elephant and You Are The Mouse", in which Slowdive / mojave 3 provided with the soundtrack, not released on CD though. "Always there baby" is another movie that has been under production, but I donīt know if itīs released. Neil is currently planning a solo album which is rumoured to be out on 4AD in October 2001.



Rachel Goswell Rachel was born the 16th of May 1971, and plays the bass in the band. She comes from Sonning Common near Reading in the U.K. After having formed (october 1989) and left (1995) slowdive behind, she was one of the founders of Mojave 3 together with fellow ex-slowdives Neil and Ian. Her voice is one of the most beautiful in pop and she sang a lot on the first album with mojave 3 but not as much on the second, which has made a lot of fans disappointed. In 1997 she married Christopher Andrews, who also played piano on the first album. Nowadays Christopher is playing with the band Cuba. Rachel has also been singing on some of Cubas songs, and also on a track with Chapterhouse (Pearl). Lately, she has also sung a duet with Red house painters front man Mark K, on a John Denver tribute CD. Rachel is also planning for a solo album and is doing some quality demos with Mark Van Hoen in April 2001.

If you want to mail Rachel, you can write to: cholowookie@hotmail.com. I think itīs the right one at least...





Ian McCoutcheon, from Sipson - outside greater London, was also one of the remaining members of Slowdive who formed mojave 3. He plays the drums in the band. Thereīs really not much I know about him so youīre welcome to send me more stuff...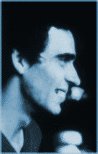 Al Forrester, from Windsor, plays Hammond, Piano and wurlitzer. After Poppy left due to personal reasons, Al joined the band as full-time member. He learnt all mojave 3 songs in just 4 days! Al even took the photographs that became the sleeves for the Out Of Tune - era records.



Simon Rowe was before in the group Chapterhouse and plays electric guitars. He comes from Wokingham near Reading. Simon is also the one who holds up the sign on the cover of the "Some kinda Angel" single.



---